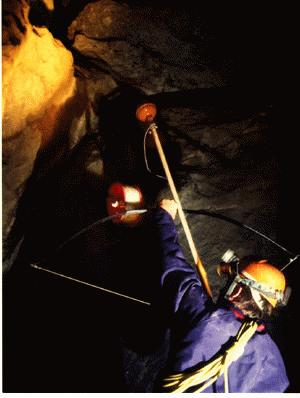 Tough Leads - Placing the anchors -
Note ease of installation!
- Even those hard-to-access leads can be reached more efficiently with SUCS.
- Using a specially-modified Archery SUCS, the primary anchor is attached to the roof near the lead. For close roof leads, a hand-operated bow is sufficient, though in large passage a cross-bow might be preferred.
- while the primary plunger is doubtless safe enough for exploration, it is prudent to carry and affix a back-up.
- also important is the correct application of the newly-developed "plunter hitch", which may be covered in a later article.
- should duct tape be nearby, this could also be used for extra safety.