---
Karst Resource Management of Vancouver Island
The Vancouver Island Cave Exploration Group
of the
British Columbia Speleological Federation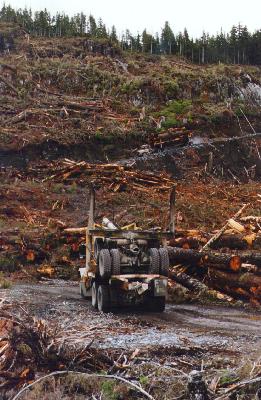 The information we have put forth is based largely with what, in our opinion, continues to be the most serious threat to caves and other karst-based natural resources on Vancouver Island... Industrial forest operations. We believe that it is a fair portrayal of the subject, but as a major resource user we acknowledge that we cannot give an altogether independent view.
May 1996.
---
Our Cave Conservation Policy
We are mandated by our constitution to promote cave conservation. Our basic conservation objective, however, is to ensure that significant karst resources are protected. Why? Because we believe in the interdependence of the surface and subsurface karst environments . For this reason, we may use the terms "caves" and "karst" interchangeably.
---
---
Karst Resources of Vancouver Island
Limestone Caves
Vancouver Island, the largest island on North America's west coast. It is approximately 500 km long ,with an area of some 32,100 square kilometres, 4% of this surface area, or 1,200 km2, is karst. This represents just over 0.1% of the total carbonate rock surface in Canada or 1,200,000 km2 (about the same as China). The caves of Vancouver Island are comparatively well developed due to high rainfall, dense vegetation, soil cover, and mountainous topography . There are more explored limestone caves here than in all other Canadian provinces combined. Vancouver Island is so rich in caves, with more than 1,000 recorded, that it is sometimes referred to as the "Island of Caves".

There are more explored limestone caves here than in all other Canadian provinces combined. Several of Canada's longest and deepest cave systems are found on Northern Vancouver Island. There, hundreds of caves have been charted since systematic exploration began in the mid-seventies, including some with several kilometres of explored passages.
Surface Karst Phenomena
The above-mentioned environmental conditions favour not only caves, but also classic surface karst phenomena such as dry valleys, rock bridges and arches, and springs. Dry watercourses abound throughout the limestone areas, and several major watercourses sink and flow underground .

The Upper Benson River, for example, leaves the surface to be swallowed by a large cave. The subterranean flow is thought to emerge in the Raging River drainage some 2 km away. These phenomena are a principal theme on Northern Vancouver Island. It is virtually impossible to be interested in this part of Canada, without being exposed to natural karst attractions. It is suggested that this landscape is of national and possibly international importance because of its unique connection with remnants of temperate old growth forests.
---
Importance of Vancouver Island Caves
Caves and Culture
The caves and surface karst phenomena have always had a value far beyond that of recreation. Many believe the beauty of these features, or the mere fact that they may exist unseen, promotes a sense of spiritual well-being.

The historical use of karst resources on Vancouver Island has varied according to cultural and religious factors. They were often regarded as supernatural elements to be respected in the natural world. Many caves throughout the region were used for burial, and a variety of artifacts have been recorded.
Recreational Caving
Beginning in the early sixties, recreational cave exploration, or caving, increased the use of Vancouver Island caves significantly. By 1974 many forest companies, to their credit, lifted unpopular public access restrictions. Previously, caving had been limited to weekends between 6:00 a.m. and 3:00 p.m., or, after 5:30 p.m. and before 6:00 a.m. on weekdays. In some cases , recreational access was only available on a permit system!

The caves have attracted hundreds of serious cavers from Canada and abroad. Exploration is now increasingly shared between local caving groups and visiting cavers from across Canada and the U.S., Great Britain, France, Belgium, Czechoslovakia, Germany, Spain, Italy, Indonesia, Australia , and New Zealand. Today, cavers probe throughout the Island every weekend in the seemingly endless pursuit of new caves.

The caves have also attracted a growing number of scientists of various disciplines, some of whom examine both living and dead organisms .
General Public Use
Until the sixties, the non-caving public was unaware of caves in general, much less those on Vancouver Island. Interest has grown rapidly since then, possibly due to the concern for health, fitness, and the environment. In some other parts of the world karst resources are of major economic significance, sometimes eclipsing the importance of forestry. Today, we estimate that one third of the local population has visited at least one Vancouver Island cave.

Surface karst viewing and cave touring are presently offered by at least four commercial ventures and there is potential for expansion. This compares to one such enterprise in 1976. This is a sector of our tourism industry that depends directly on the quality of theses natural resources.